The Big Book of Dashboards presents a comprehensive reference for those tasked with building or overseeing the development of business dashboards.
Now Available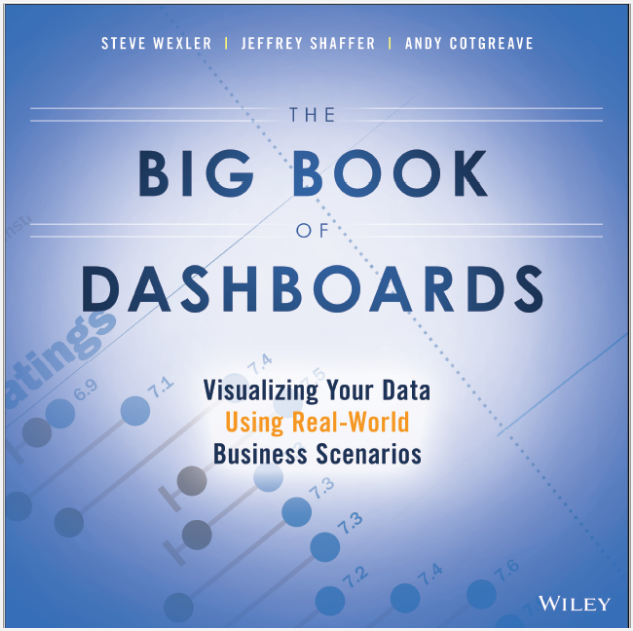 Comprising dozens of examples that address different industries and departments (healthcare, transportation, finance, human resources, marketing, customer service, sports, etc.) and different platforms (print, desktop, tablet, smartphone, and conference room display) The Big Book of Dashboards is the only book that matches great dashboards with real-world business scenarios.
Steve Wexler

Data Revelations




Steve Wexler has worked with ADP, Gallup, Deloitte, Convergys, Consumer Reports, The Economist, ConEd, D&B, Marist, Tradeweb, Tiffany, McKinsey & Company, and many other organizations to help them understand and visualize their data. Steve is a Tableau Zen Master, Iron Viz Champion, and Tableau Training Partner.

His presentations and training classes combine an extraordinary level of product mastery with the real-world experience gained through developing thousands of visualizations for dozens of clients. In addition to his recognized expertise in data visualization and Tableau, Steve has decades of experience as a successful instructor in all areas of computer-based technology. Steve has taught thousands of people in both large and small organizations and is known for conducting his seminars with clarity, patience and humor.

DataRevelations.com
@VizBizWiz
Jeffrey Shaffer

Data Plus Science




Jeffrey A. Shaffer is Vice President of Information Technology and Analytics at Recovery Decision Science and Unifund. He is also Adjunct Professor at the University of Cincinnati teaching Data Visualization where he was the 2016 Outstanding Adjunct Professor of the Year.

He is a regular speaker on the topic of data visualization, data mining, and Tableau training at conferences, symposiums, workshops, universities, and corporate training programs. He is a Tableau Zen Master, was the winner of the 2014 Tableau Quantified Self Visualization Contest which led him to compete in the 2014 Tableau Iron Viz Contest. His data visualization blog was on the shortlist award for the 2016 Kantar Information is Beautiful Awards for Data Visualization websites.

DataPlusScience.com
@HighVizAbility
Andy Cotgreave

Tableau Software




Andy Cotgreave is Technical Evangelist at Tableau Software. He joined Tableau in August 2011 and has had various roles at the company. In technical presales, he helped 100s of customers understand visual analytics. He worked with the training team to develop their first course on Visual Analytics. In 2013 he moved into product marketing to take on his new role.

As Evangelist, Andy's role is to help people see and understand their data. He speaks at conferences globally, such as SXSW, Visualized, and Tableau's own conferences. He writes a column for Computerworld, Living With Data, as well as maintaining his own blog, gravyanecdote.com.

GravyAnecdote.com
@acotgreave
Healthcare
Scheduling, patient tracking, worker's compensation claims, and health care provider productivity monitoring.
Customer Service
Call center dashboard, complaint monitoring, now vs. then comparisons and customer churn.
Marketing
Website tracking, resource utilization and sentiment analysis.
Sports
Team performance analysis and player performance rating.